New Year's party in 2019
Under the leadership of Mr. Liang Denghua, the chairman of the company, the company's colleagues worked together and worked together to achieve a certain breakthrough in performance and made positive contributions to the company. In order to give back to employees' hard work, at the same time to inspire staff morale, increase company cohesiveness, improve employees' recognition of the company, foster team spirit of enterprise unity and forge ahead, under the careful preparation of the company's administrative department, Jiangsu Sanmu's first annual Spring Festival in 2019 held as scheduled. The chairman of the company delivered an important speech and eagerly sent a message: In 2019, we must continue to work hard and set off our sleeves to cheer!
The staff home makes the staff's spare life rich and colorful
The development of the company is inseparable from the joint efforts of all of them. Jiangsu Sanmu Shale Gas High Pressure Hose Co., Ltd. has been growing up in the past few years and has gradually grown up from bit by bit. It is inseparable from each of our staff. Strong support, so we must not forget our employees at all times, to benefit them. In order to allow employees to take a break and Fangsong in their spare time, the company invested in table tennis tables, large-screen TVs, newspapers and magazines, etc. (there will be more entertainment facilities in the future).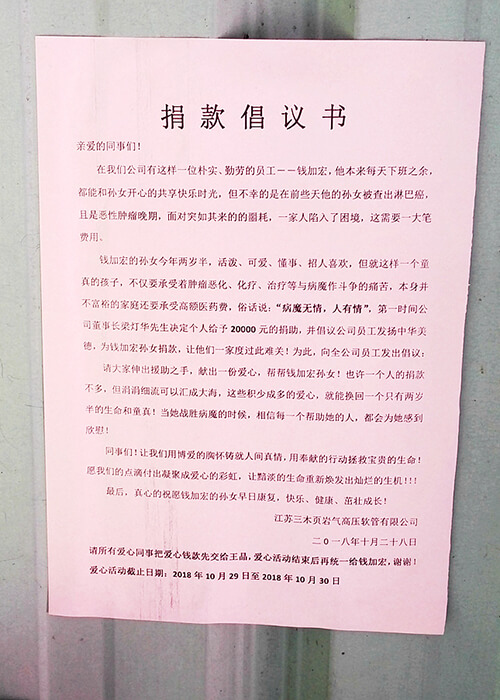 Big love in Miki, warm and full of people
October 28, 2018

Dear friend, hello!
First of all, thank you very much for coming to our Sanmu company website. As shown in the figure, this is a donation proposal. The company's current employee, Qian Jiahong's 2 year old granddaughter, was unfortunately diagnosed with lymphoma this year and is already in advanced stage. In the face of sudden loss of consumption, the family was in trouble. The high cost of treatment made the family that was not rich enough. The general manager of the company, Mr. Liang Denghua, took the lead to donate 20,000 yuan in the first time, and advocated the employees of all departments of the company to carry forward the Chinese Traditional virtues donated money to Qian Jiahong's granddaughter. Dear friends, the trickle can be merged into the sea. The accumulation of love can hold up the hope of a family. Please stop in a hurry and offer your love to this family. Donation contact number: Manager Liu 18994697588